I got so much done during the last organization challenge I participated in. Seriously,
my entire
parts of my house look so different I'm still doing double takes as I walk through certain rooms. Our host for the 21 day challenge is now offering a weekly challenge with assignments ranging from cleaning out the garage to de-cluttering the book shelf. Both of those sound fab-u-lous! Fabulous! Fabulooooous!
I'm so glad I stumbled across her blog. I've been keeping up on all the changes I've made, she introduced me to new cleaning products that I love, I've been moving more just because of the organization projects. Seriously, I'm almost to 10,000 steps per day on my pedometer. We even have the same favorite color! Look, her button even matches my blog colors!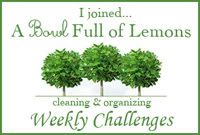 I can't wait to get started,