I had such high hopes for this meal. Healthy, fairly simple, yummy ingredients. I was going to make it earlier in the week but purposely waited for the weekend because my mom who is vegetarian was going to be visiting. I got this recipe and many others from
Debbie does Dinner
and this is the first one that didn't turn out.
Attempt to make Spicy black bean cakes with Lime cilantro sour cream. The only reason I can think they didn't turn out was because I don't use non-stick skillets. (They are bad news peeps). I use stainless steel and would love love love to get some cast iron. Some day... *taking a moment to stare longingly out the window, day dreaming about my cast iron skillet collection*
Ahem, ok I'm back.
These pics aren't the best. My camera is on the fritz which is good and bad news. Bad because I really like this camera. Good because as soon as it officially dies, I can get a new one!
For the recipe and full ingredient list just visit the link above.
Yellow peppers and onion, cook just until soft.
The recipe called for jalepenos but 2 of my kids can't handle the heat so I used diced green chilies.
Add garlic (lots of it, rowr), green chilies, red pepper flakes.
Then mix with black beans and mash. Season with S&P.
Mix in sweet potatoes, egg and bread crumbs.
Looks a little gross.
Then remove all rings from your fingers and bells from your toes and start forming into patties.
Be sure to make an "ooh, this feels gross" face for the camera.
This is where things went south for me. You're supposed to cook in a skillet until crisp, yummy patties. Mine turned into blackened, warmed piles of grossness looking stuff. I actually gave up and asked my husband to try to salvage them. Then the man that I love lots and lots proceeded to melt about 3 cups of butter in the skillet and finished frying them. That man and I do indeed differ on the definition of healthy eating. His idea is to not supersize his double whopper. Still love love love him. Just feel sorry for his arteries. I digress, again.
Patties failed. Hash type substance success!




This tasted super good, it just wasn't what it was intended to be. I used the leftovers to make breakfast burritos the next morning. All's well that ends well.
Since I want to link up this post to Jen's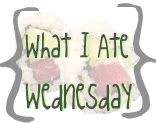 I'm also going to show you some other yums I ate this past week.
Fresh mushroom, green pepper omelet with avocado and tomatoes.
So stoked to have found coconut milk yogurt! Not so stoked about the price. I bought just one.
Tres yummy mexican ground turkey quinoa skillet, minus the ground turkey ;)





Hopefully I'll get more pictures of my meals this week so I can link up again next week.
What did you eat this week?