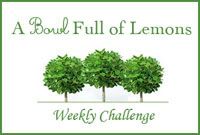 I'm very thankful that this new organization challenge is on a weekly basis. I've got mucho going through my mind these days and this way I won't get overwhelmed and can still participate. Yay!
I was a little bummed that the first project was a Home Management Binder. I like the system I have now, it works for me. Or so I thought.
I'd like to enter into evidence exhibit A:
Hmm, I can probably remove the SOLD sticker.
I present to you the front of my fridge. It doesn't usually look this cluttered. I went to bed early Sunday night so my husband took care of Friday Folders. (I know we're not the only ones that wait till Sunday night to look in Friday Folders. Right? Right?!) He or the kids put the lunch menu, Valentines class list, and class schedule all up there. I usually put the papers I need to keep from the kids school on my desk or in my planner that stays in my purse.
So this cluttered mess combined with Toni's post got me thinking maybe I/we could benefit from a binder that keeps everything together in one place. I'll work on it this week. I already know I'll keep the Busy Body calendar I use now (busybodybook.com). I love it. It's made for big families (which I have) and I've used it for a few years now. It has to do lists galore, places to doodle, tear out grocery lists, and up to 6 or7 individual blocks for each family member, depending on which one you order. Right now I have this one:
It's so pretty.
Hearts flutter & angels sing each time I open it. I'm not sure if others hear them or just me.
There are spaces for 5 family members. Right now it works perfectly for my family. My husband and I have a box as do our 3 older kids. Kiwi doesn't need one yet as he doesn't have a busy schedule. His story time dates and rare doctor appointments just go under my listing. I figure by the time he's older and needs his own schedule, our oldest daughter will be moved out of the house and will be keeping track of her own schedule.
Hmmm, suddenly it seems I've ventured into raving about my planner and away from the home management binder. Could it be I'm stalling?